The main objective of the project is to create an exclusive residential building in the vicinity of the downtown buildings of old Wrocław. Being situated in the very city center, just walking distance from the most important cultural centers, makes the location attractive both as a flat for a family, an office in the city center, or as an investment. Our proposal is an attempt to create a residential function, which is capable of meeting the needs of various recipients.
The plot in question is located at Kazimierza Wielkiego street in Wrocław. It borders directly with the Evangelical Church and in close proximity to the Main Market, the Royal Palace and cultural centers such as the National Forum of Music or the Wrocław Opera and many restaurants.
The presented project is a modern interpretation of a classically proportioned tenement. Its façade was designed with respect to the proportions of neighboring buildings. The main part of the façade ends at the height of the cornice which crowning neighboring tenement houses. The top two storeys have been recessed to form terraces.
At the same time, this approach creates a visually lighter body of the building. The solid was cross-sectioned, its section recessed, which in front of the neighboring church creates a representative square, in line with the objectives and guidelines of the applicable local development plan.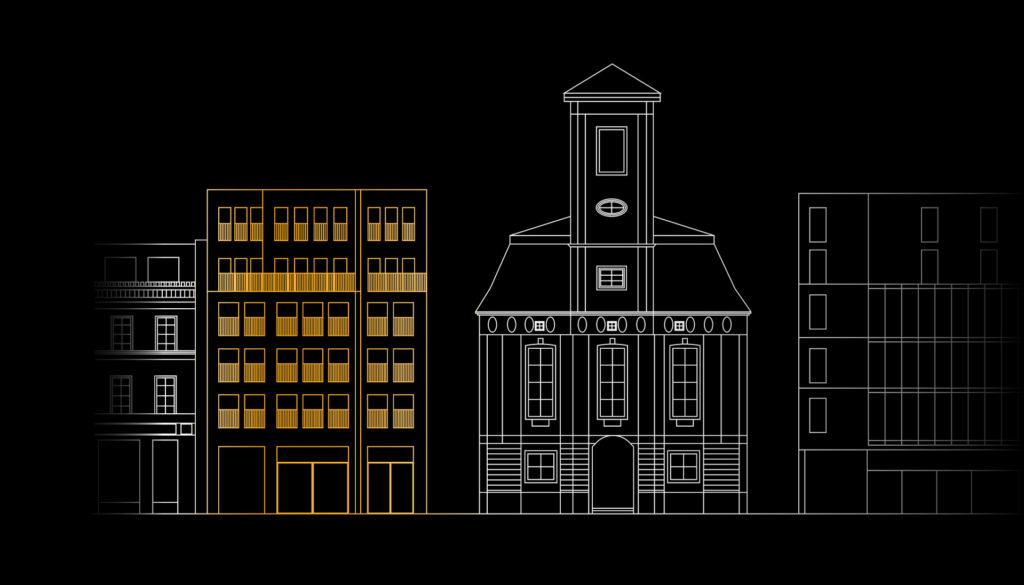 The building has been finished with sintered quartz panels with a shade of dark stone, golden elements of balustrades, window and door joinery. The building's ground floor features 2 commercial premises which can be easily used as small restaurants, a bakery or other center-forming services.
The remaining floors have been designed with 1, 2 and 3 room apartments. The floor plan of each of them allows to arrange the space for both families, a single person, or as an office.
Each of the apartments has an access to loggia or balcony, additionally enlarging the living space.